Marketing and Listing Your Home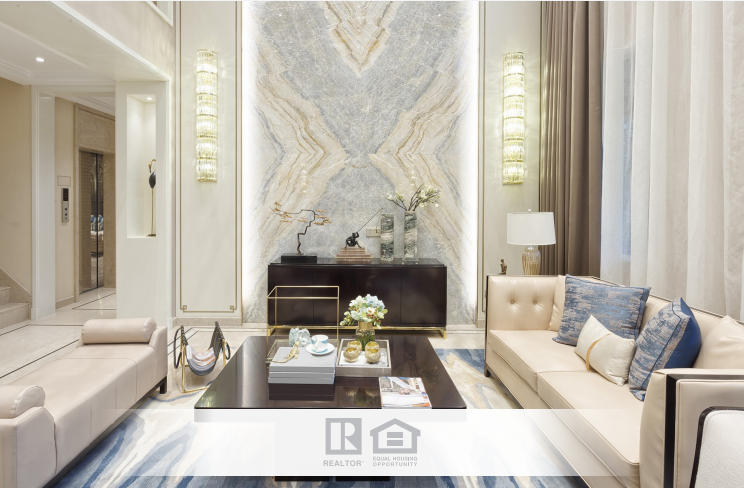 Our Mission & Vision
Strategic Marketing Plan
Our philosophy is simple: clients come first. We pledge to be in constant communication with our clients, keeping them fully informed throughout the entire buying or selling process. We believe that if you're not left with an amazing experience, we haven't done our job. We don't measure success through achievements or awards, but through the satisfaction of our clients.
Atlis Realty delivers unmatched expertise and hands-on experience benefiting our clients, whether buying or selling. Each client is unique as the home they are buying or selling. We are focused on building lasting relationships with clients to continue to be a valuable resource long after the transaction process is over. We strive for our clients to consider us as a total resource in buying, selling or investing in real estate.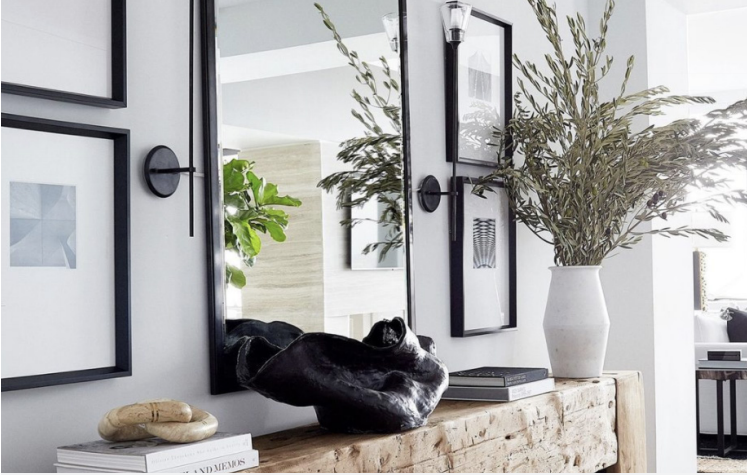 Our Core Values
Commitment to Excellence

Be Cutting Edge

Client-Centric

Care (Be passionate and care about what you are doing)

Consistent Follow Through

---
Who You Sell With Matters Innovation With Results
The Housing Market in the Boca Raton, Florida area has bounced back and inventory is considered low in many popular neighborhoods. Navigating the real estate market hyper-locally can be challenging even though homes are seeming to sell easily.
What's the difference between selling your home or failing to do so? THE DETAILS! Whether it's my PROVEN RESULTS, innovative marketing campaigns, or utilizing my extensive network, at Atlis Realty no detail is overlooked.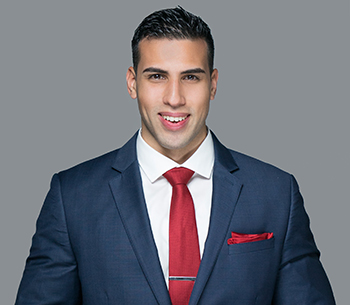 I pride ourselves in using the newest technology and innovation in the market to maximize the exposure of your home and collaborate with you to achieve the results you want… Selling your home!
Client satisfaction is my #1 goal, I am committed to the best interest of my clients, always. I will educate you on what needs to be done to have a successful sale of your home and transition you into your new home. There are many components to a smooth and successful real estate transaction; you can count on us to be there every step of the process and make sure no detail is overlooked.
With my energy and expertise in the market, you can TRUST Atlis Realty have the right tools to successfully sell your home. If you are serious about selling your home, I am serious about getting the job done!
Now more than ever, who you work with matters!
"As a professional Realtor, I believe in creating value and providing high levels of service for my clients."
Pre-Listing Presentation
VENDOR MANAGEMENT
Throughout the process of selling your home, we want you to keep living your life. Taking time off work or rearranging your schedule to accommodate a stream of vendors who will work to get your home market-ready is the last thing we want you worrying about. With your permission, we'll gladly take on the role of coordinating projects, start and completion dates, overseeing work on-site and ensuring tasks are performed to the highest standards.
STAGING
As part of our initial consultation, a well considered plan for staging your home will help prospective buyers love it for all the right reasons. We how to make your property shine. Investing in great staging can significantly drive up your sales price.
PHOTOGRAPHY
The importance of great pictures cannot be overestimated. When photography is done well, it conveys value, sets a desirable tone for your home and compels discerning buyers to come see the space for themselves. Our skilled professional photographers know how to bring your home to life while making a great first impression on buyers in order to drive interest and demand.
VIDEOGRAPHY
We provide a professional video for each property that includes a narrated walk through video for social media channels and a non-branded video tour for the MLS per their restrictions.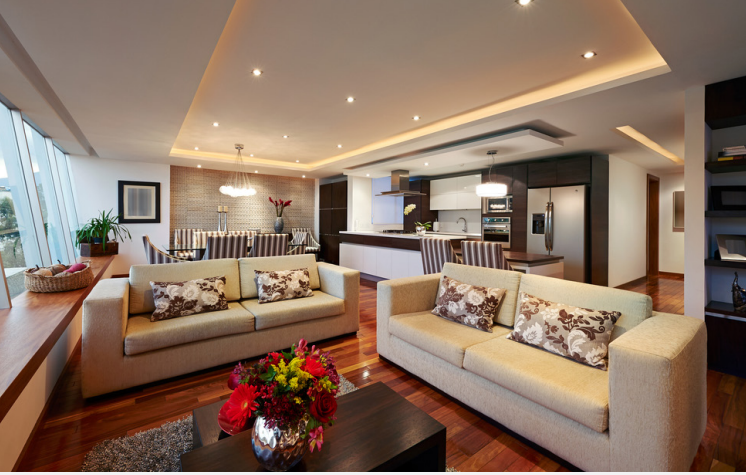 Staging
Every effort to prepare your home for the market is designed to excite buyers and generate the highest possible price for your home. With this in mind, experience and statistics tell us that professionally staging your home is a must. Today's buyer uses online search engines to quickly scroll through listings and photos for the places that catch their eye. The reality is, if your home doesn't look amazing on a shopper's screen, it may be passed over. The numbers are clear: Homes with staging spend 78%* less time on the market.
And if the upfront cost seems steep, consider this: Well- staged properties typically earn back nearly twenty dollars for every one dollar invested. It's the first and most important step you can take to ensure your listing gets the attention it deserves.
*Survey of Atlis Realty, Florida Area Realtors by Destination Analysts, Inc.
---
Photography | Videography
Great pictures and video should sell your home before a buyer ever steps foot in the door. We utilize a team of artistic and professional real estate photographers and videographers.
If the photos and video don't make an impact from the moment your listing is featured online, we likely won't get a second chance. From staging to photos to video, it's all about helping your property stand out as something special.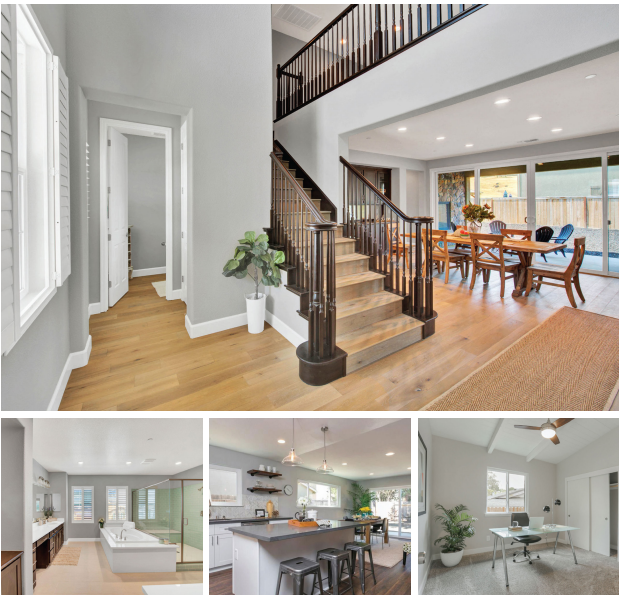 ---
How Buyers Are Finding Homes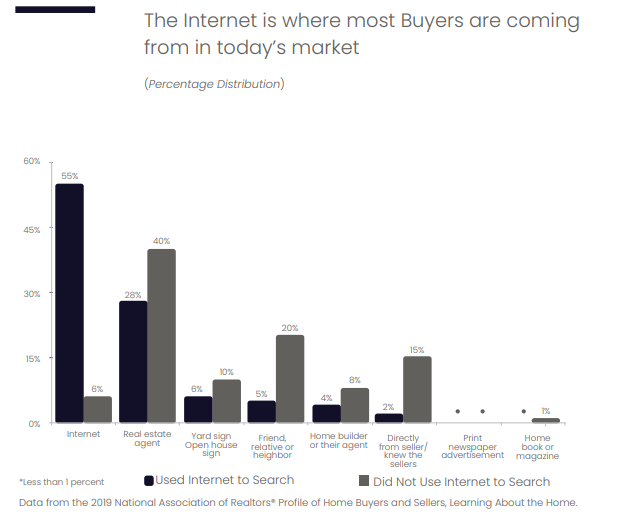 ---
Syndication
No matter how stylish, easy to use and full of information a website is, the average real estate brokerage doesn't get 5 million visitors a month. This is why millions of website visits are amassed on national portals and search engines, such as the ones listed below. By syndicating your listings to show as they appear on those channels, your listings will get exposure to those consumers.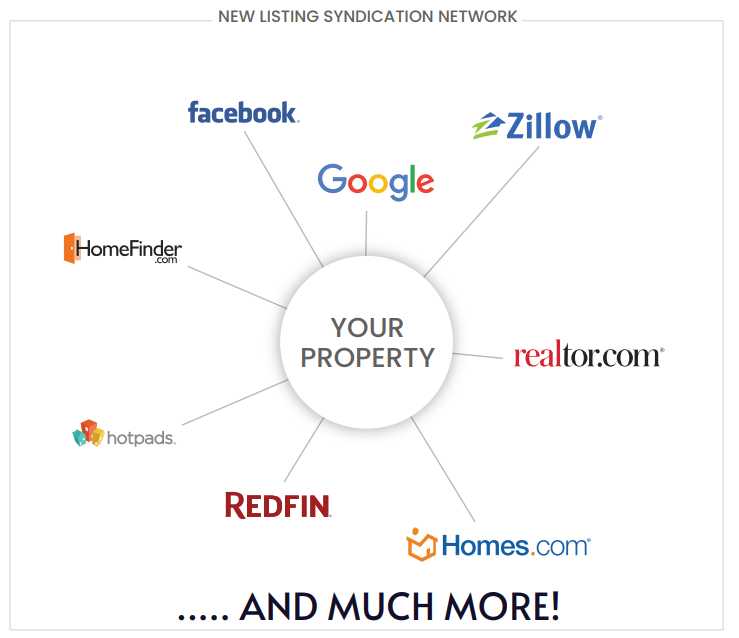 ---
Our Marketing Plan Makes Your Home Stand Out
See for yourself!
Team Approach
Professional Photography Professional Videography and Video Tour Marketing
Professionally Installed Yard Sign Post Distinctive Brochures Professionally Printed
Custom Website Specific To The Property
Premier Exposure On:
Zillow.com
Realtor.com
Trulia.com
Homes.com
Google.com
Social Media Marketing on all Channels including: Facebook, Instagram, YouTube, and LinkedIn
Mega Open House
Over 5000 Local Agent Preview Email with Branded Video Tour of Home
Local Brokerage Network
National And International Brokerage Network
Pre-Marketing E-Mail Blast To Our Database
Prospecting the Atlis Realty Buyer Database
Professional Staging Consult | Coordination (if needed)
Seller Home Warranty Available (if needed)
Broker Tours
Feedback from All Showings and Detailed Weekly Update Provided to Sellers Weekly
High Level of Communication Throughout Entire Selling Process
---
Home Sale Timeline
Pre-Listing
Schedule in-person or virtual appointment
Meet with Atlis Realty
Discuss best strategy to market and sell your home
Sign listing agreement and addendums
Provide copy of house keys
Property evaluation to decide on repairs needed
Market analysis completed
Sales price determined and agreed upon
Set up time for professional photos and video
How to prepare home for showings discussed
Listed and Active
Marketing campaign started
Sign installed day of listing
Lockbox and brochures with welcome sign dropped at home
Listed on mls and online websites
Direct mail campaign launched
Email campaign launched
Social media marketing campaign launched
Open house scheduled
Showings to be booked via online and explained on how to accept
Strategic Marketing Plan
Under Contract
Offer(s) received
Offer(s) negotiated
Offer accepted
Back-up offer(s) accepted
Inspections & disclosures completed
Appraisal completed
Contingencies removed
Property closes
Refer friends to Atlis Realty
---
Pricing Your Property
YOUR PROPERTY IS UNIQUE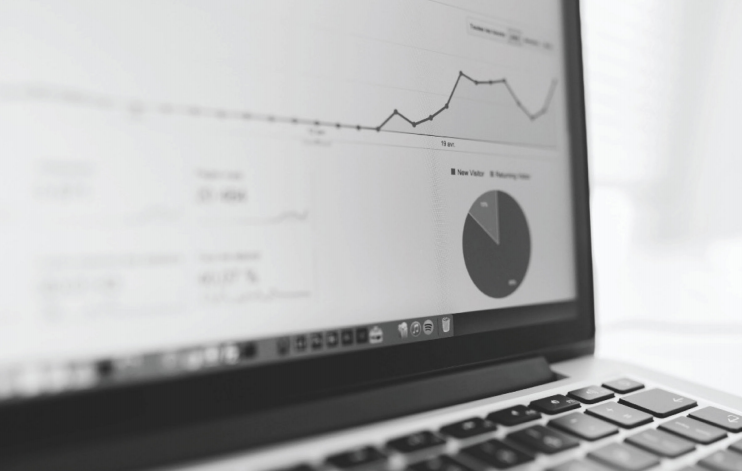 While it may be one of the first things you'll want to talk about, the final decision about where to price your home will ultimately become clearer after we've done the work to make it market-ready.
Yes, the comparable sales figures for other homes in the area are a factor, but they might not be everything.
Will look at all the variables, the location, the features, and the demand. But your property is unique and will work with you to set a price that:
Considers the best features of your home, as well as realistic drawbacks
Gauges recent sales of comparable properties in your neighborhood
Analyzes and reflects the price range that will attract the most qualified buyers
Establishes your property's fair market value in relation to current conditions
It is important to price your property correctly as it comes to market. Overpricing can pose significant challenges. If the reduction is later required, it can send a negative signal to buyers, even if the home is everything they are seeking. When the circumstances warrant, we may consider an off-market. To test pricing which allows us to go public with a price we know will drive maximum interest.
---
Who Pays for What
Although the question of who pays for various closing costs is negotiable between the buyer and seller, the following is a standard breakdown of how responsibility for costs is typically divided. Closing costs are the various charges made by the lender, the title company, real estate agents, and other service providers necessary to complete a transaction.
THE SELLER CUSTOMARILY PAYS:
Real estate commission
County and city transfer tax
Document preparation for deed
Documentary transfer tax (amount dependent upon sales price)
Payoff of all loans against the property
Interest accrued on loans being paid off, reconveyance fees and pre-payment penalties.
Home warranty (if specified in contract)
Any judgment or tax liens against seller
Property tax proration
Unpaid homeowners dues
Bonds or assessments
Delinquent taxes
Move-out fees (for condominiums)
Notary fees and recording fees
Termite inspection report for real estate sale, well & septic inspection, if applies
Pre-sale inspection fees
Miscellaneous charges
HOA transfer fee
THE BUYER CUSTOMARILY PAYS:
Notary fees
Title and Escrow fees
Contractor's and buyer's inspection fees
All new loan charges (points, appraisal, document, processing fees, etc.)
Interest on new loan from date of funding to 30 days prior to the 1st payment date
Home warranty (if specified in contract)
HOA Capitalization Fee (if required)
Private mortgage insurance (typically 2 months) if required by lender
Private mortgage insurance impound account (1 year) if required by lender
Property tax impound account if required by lender
*This list is a general guideline of charges and may not be wholly inclusive for your transaction
---
Listing Compensation Plan
Listing input on the MLS
Property Professionally Pitched and Hosted Open for Broker's Tour
30-50 Professional Photos with 3D Tour included and links to photos to keep as memory
Two Professional Videos (one narrated Walk Through Video and one non branded for MLS) with Drone Footage if needed
Marketed in CVRMLS - pushed out to over 4,000 websites. Zillow, Redfin, Realtor.com, etc.
Professionally installed For Sale sign (where allowed) and professional color fliers and welcome sign inside the home
Top level social media marketing campaign on Facebook, Instagram, YouTube, and LinkedIn
Mega Open House (Where applicable)
Neighborhood Door Knocked
Circle Prospecting per Tax Rolls
Email Blasts to Top Agents
200 Professional Flyers (Open Houses and Door Knocking)
2 Staging Consultations included for Photo Prep
Access to List of Preferred Vendors
Individual Property Website
Listing Compensation Plan (In Addition to Above)
Matterport Listing Package with 3D Walkthrough
Lifestyle Video and Marketing Campaign
Professional Staging with Furniture and Home Accents
---
For Sellers
Listing Storyboard
Bring your home to life with a listing storyboard that shares a video of your home and an interview with you (not on camera unless you specify) about why you fell in love with your property, where you love to eat, shop, etc...
Coming soon
Sometimes you are not quite ready to get your home on the market. Our coming soon program alerts potential purchasers as well as buyer agents - that your home will soon be listed. Potential purchasers register for information so that we can alert them as soon as your home is live!
Certified Pre-owned homes
In old-fashioned real estate, homes go under contract, then most often a re-negotiation happens at the time of inspection, and often again when the home is appraised by the purchaser. CPO puts sellers back in the driver's seat with full knowledge of the property they are selling and in a better place to make more money while selling faster
Walking Tour Video
Walking tour videos bring your listing to life, exploring the neighborhood you live in as well as the key features of your property. This sets your property apart from all the other listings that prospective purchasers are viewing - often from another state. Imagine the different experiences they're getting.
Selling Land
We are delighted to list your lots and bare land, and support them with a booster marketing package. No more picture of a tree and a sign!
Social Media
In 'old fashioned' real estate sales, a sign in the yard was enough. Today, more and more people are joining the online social world every day - people of all ages and demographics, reading/watching / listening to the news, updates on their family and friends, and generally participating in more and more of their daily interactions online. Our engagement strategy, customized to your property, allows you to connect with your buyers - wherever they are.
Memories Video
A memories video is similar to a walking tour video - the only difference is that we capture your memories in your home. Perhaps your children were born, graduated, or got married in your home. Perhaps you built it. Whatever the reason, most homes carry memories, and we understand it's those you are connected to much more than the 'bricks and mortar'. You don't have to be in front of the camera - it's up to you. Just walk around with us and share your memories, so that you have it captured to share with yourselves, friends and family.
Retirement Communities
Retirement communities are present all areas of the country. There is a sometimes confusing array of terms depending on the area, ranging from 55+, Age-Qualified Community, Active-Adult Community, Master- Planned Community, Gated Community, Golf Community, Manufactured Home Community, Assisted Living Community. We will provide you with a customized search that identifies the local terms for retirement communities as well as homes available within those communities. When you are ready to 'right-size', let us find your dream home.
Estate Planning
We have teamed with the finest financial planners and estate planning attorneys to make sure that when you are facing such difficult decisions, you have the facts to make responsible plans to provide for you and your loved ones. Our real estate service is especially helpful in situations where a group of siblings has inherited a home.

---
Preparing Your Listing for Sale
SELLER'S CHECKLIST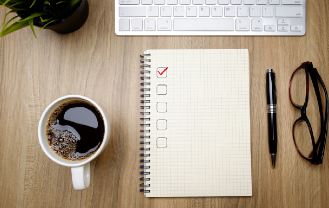 Sellers calculate expenses and create a budget
Plan selling strategy with Atlis Realty
Complete all agreed-upon repairs and staging for listing
Get home ready for photos and video. Vehicles out of driveway
Try to accept all showing requests and make sure to leave the home 10-15 minutes prior to showing appointments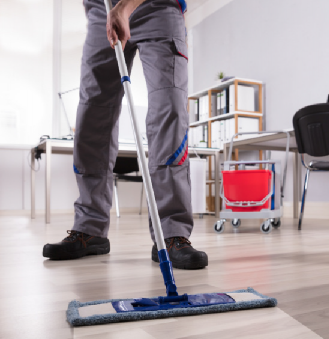 INTERIOR
Remove excessive wall hangings, furniture, and knick-knacks
Clean or paint walls and ceilings
Shampoo carpets
Clean and organize cabinets and closets
Repair all plumbing leaks, including faucets, and drain traps
Clean all light fixtures
FOR SHOWINGS
Turn on all the lights
Open Curtains and Blinds
Close toilet lids & make sure bathrooms are clean
Make arrangements for pets to be secured and out of sight
Play quiet background music
Light the fireplace (if seasonally appropriate)
Infuse the home with a comforting scent like apple spice or vanilla
Vacate the property while it is being shown
Vacuum prior to showings if possible and remove all clutter from countertops and sink
EXTERIOR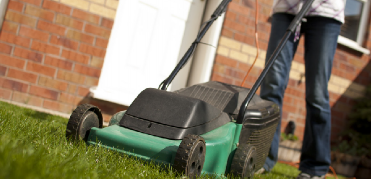 Keep the grass freshly cut
Remove all yard clutter
Apply fresh paint to wooden fences
Paint the front door
Weed and apply fresh mulch to garden beds
Clean windows inside and out
Wash or paint the home's exterior
Tighten and clean all door handles
Ensure gutters and downspouts are firmly attached
---
CLIENT TESTIMONIALS
Before choosing a real estate agent, I conducted a lot of research. I read the reviews and I must say they're awesome. Very reliable and one thing is the communication. Don't look any further, this is the place to go. Let them know Charlene referred you. Very knowledgeable and they don't pressure and hassle you as well.
Charlene A.
Looking for a professional and knowledgeable firm to purchase a home? Best real estate firm in town, Atlis Realty! Jean will work day and night to make sure the buying process goes fast and smooth ! He is very honest and pleasant to work with! I highly recommend Jean to friends and family for their home-selling needs!
Rosa D.
Atlis is a current, relevant, urban group of real estate agents who are tech savvy and fully dialed in to the South Florida real estate space. Their agents are experienced negotiators responsible for hundreds of millions of dollars in listings and sales.
Matt M.
It was a pleasure to work with JT. Very professional and takes time to truly understand what his clients needs are to deliver results and help with making the best decision. Thank you so much for being super responsive and making the process efficient and seamless!
Christian M.
Professional, reliable, trustworthy! These are words that come to my mind when I think of Jean. He is an overachiever and takes pride in his ability to deliver great results. I would definitely recommend him for your Real State needs.
Leo O.
Best Decision I've Ever Made!!! I was in a situation where I needed to get out of my house ASAP and Jean the team at Atlis came through for me. Nobody else will ever beat their services and I'm relieved, I will forever be grateful for what they did for me!
Lenny R.
It has been an awesome to find a realtor who really takes his time to work around my schedule and not only be honest in our conversation, but update me with details and information that hasn't been shown or publicized.The trust factor I have with Atlis Realty is what I value most. Appreciate you guys from the bottom, truly.
Ariel P.
We have worked with Atlis in Vacation Rental acquisitions, we are very pleased with their work ethic, attention detail, and understanding of the vacation rental market.
Monumental Hotel Corp
Jean was very professional and very responsive in our needs! He was always answering my calls and concerns. Thank you for helping us get our dream home.
David C.
I've had the pleasure of working with Jean (owner of Atlis) directly and I can tell you that he is one of the most compassionate, patient, tenacious negotiator and driven brokers I know. If you're looking for anyone to help you with your real estate needs look no further, you have found the best of the best in SFL.
Abraham S.
Jean is very professional and respectful and does a great job helping you find what you are looking for!
Natalie T.
An excelent excperience. Jean is very proffesional and always aviable. Thanks for supporting!
Arnalda L.
Best Broker and team ever, we are like family. People matter here. So happy to have purchased my home with such an amazing team.
Chris C.
Jean Taveras is the most awesome realtor anyone could find in the South Florida sea of realtors! He is extremely knowledgeable, patient, helpful, kind, and thorough. He took the time to help me look for exactly what I was looking for (I am picky), and when I started to give up hope, he gave me positive encouragement. He helped me find the perfect home for me that contained all of my most important check list items. He guided me throughout the entire process, gave me really good advice about making a bid (I won it!), and even caught a $2000 error from one of my closing docs. I had worked with many realtors prior to finding Jean, but because he was helping me find what I needed and wanted and not what he could just sell, I chose him. I highly recommended him to one of my best friends who is now using him to find her future home. I cannot say enough about Jean who understands every aspect of realty and who even gave me a list of reputable people who can do repairs. Don't just call any realtor - call Jean Taveras of
[email protected]
angel900r
This is just to thank you for all your hard work i really appreciated your patience, diligence, professional care throughout the whole process and I am finally the proud owner of my apt. Thank Jean you are an amazing realtor n I will always recommend you to all my family and friends.
olgamiriamchavez
I have contacted Jean with many questions to prepare myself and get some knowledge of how to purchase a home what things i need to get in order and best way to raise my credit to be fully prepared he is a very trusting agent knows what he is talking about and is full of information to give. I always look for his advise while preparing myself to be a future home owner and I know i'll look for him to be my agent while searching for the right home
Dixi Andrade
All around great person to work with. Jean truly cares about meeting and exceeding all of his clients needs to the best of his abilities. He brings to the table passion, creativity, and a great personality that makes the buying or selling process (depending on which side you fall under) that much more enjoyable and less stressful. Jean has helped make people's dreams a reality when it comes to real estate. So why not make your's come true as I have!
guevara ma16
Jean is a dedicated profesional with great negotiating skills, 100 % on call, great responsiveness and most important a great human being that will bypass challenges and achieve expectations. My wife and I are greatefull to him. I totally recommend working with Jean.
edlaragione
I have known and personally worked with Jean Taveras for 2 years. He is an extremely professional, knowledgeable broker. I would highly recommend him to family, friends and anyone looking to work with the best! Dawn Seiler
dseiler26
Thank you for taking the time to review our Seller's Guide. We appreciate your time and effort. At the end of the day, good advice doesn't cost you, it pays you! We look forward to being your trusted advisor.
Sincerely, Jean C. Taveras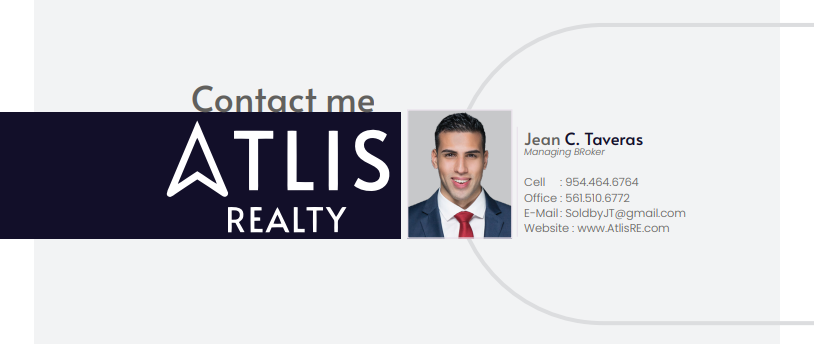 What's the real current value of your home?
Thinking about selling? Find your home or condo's value in today's market, for free.